Moore's Tours - Hurstville
The following list is of known buses both current and those previously operated by Moore's Tours - Hurstville.
Accreditation:
Vimfox Pty Ltd t/a Moore's Tours, Acc No. 8291, Hurstville
Trevor Moore, Acc No. 11571, Hurstville.
Depot Address/s:
336 Princes Highway, Blakehurst
Livery:
White with green and brown stripes.
Website:
www.moorestours.com.au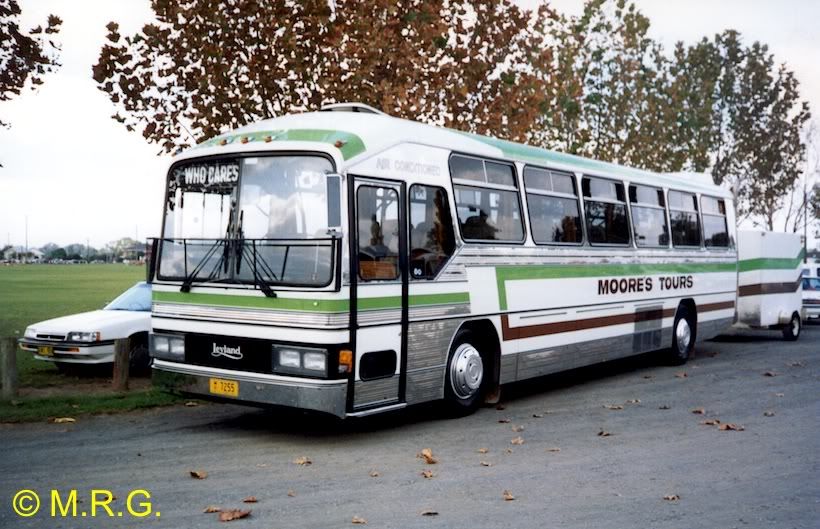 Trevor Moore is the grandson of industry pioneer Jeff Moore (founder of Harris Park Transport) and son of A.J. (Archie) Moore. Having worked in the bus industry since 1962, he left the family business in 1977 to form Moore's Tours in January 1978 with the take over of three routes from Innes Bros & Drover:
Route 7 Arncliffe - Bexley
Route 8 Arncliffe - Bexley
Route 17 Rockdale Station - Arncliffe

Included in the sale were five buses and the depot. The routes were combined into one route from Arncliffe - Bexley - Rockdale by the early 1980's to become combined route 8/17. Trevor Moore continued to operate from the former Innes Bros & Drover depot in Gibbons Lane, Arncliffe, before moving to Hurstville Grove some time around 1979. Route 115 Hurstville - Hurstville Grove was purchased from Red Transit Co on 1 July 1979. It was extended from Hurstville Grove to Oatley by February 1986.

Route 146 Allawah - Hurstville - Mortdale - Oatley - Oatley West was taken over from Harris Park Transport (A.J. Moore) on 24 December 1987 and ceased as of that date. It was partly replaced by extension of some trips on Route 115 from Oatley to Oatley West. By October 1988, the Hurstville - Oatley trips had been renumbered Route 146, leaving Route 115 as Hurstville - Hurstville Grove again.

Moore relocated his operation from Bexley to Hurstville Grove after the take over of Red Transit Co and then to 336 Princes Highway, Blakehurst in mid-1989, a yard occupied in partnership with Eddy Hayman's Canterbury Bus Lines until its sale to Punchbowl in April 1998.

Moore's Tours routes were renumbered into the Sydney Region Route Number System as of 1 April 1996, except for route 8/17, which was taken over by the STA (Sydney Buses) on 20 December 1996 as a part of the integration of the ex Sydney Coach Lines routes into the STA network.
- Route 115 renumbered Route 954.
- Route 146 renumbered Route 953.
- Night and Sunday journeys over a route combining A.J. Moore's Route 74/106, Premier Coaches Route 117/118 & Moore's Tours Route 115 numbered Route 950 - jointly operated by Moore's Tours and A.J. Moore.

Moore's Tours also took over trips between peaks on weekdays, late afternoon weekday peak trips and Saturday trips on Premier Coaches Route 117/118 Mortdale - Oatley - Gungah Bay - Oatley Bay as of April 1 1996, which were incorporated into Moore's new numbering system as part of Route 953. Premier retained the peak hour and school trips on Route 117/118 until they were taken over by Moore's Tours on 5 December 1999 and renumbered part of 954. There was no vehicle transfer in either of these sales.

This takeover saw a number of changes occur to Route 954 as of 5 December 1999. Routes 117/118, 950 and 953 were absorbed into 954. Routes then became Hustville - Hurstville Grove & Hurstville - Oatley (some trips to either Herbert & Rosa Sts or Gungah Bay & Mulga Rds, but some weekday peak trips further extended beyond Herbert & Rosa Sts to Algernon & Clifton Sts & beyond Gungah Bay & Mulga Rds to Lansdowne Pde & Baker St; also some peak trips to Yarran & Victory Rds; also some trips to Mortdale).

In 2004, Moore's Tours and Harris Park Transport (headed by Trevor Moore's sister Nadine Thorburn) gave notice to discontinue their contracts with the NSW Ministry of Transport, due to dissatisfaction with the major reforms taking place at that time. The route services passed to Punchbowl Bus Co. Pty Ltd, Riverwood on 22 December 2004. Trevor's daughter Nicole was one of the drivers on the last day, driving one of Moore's more notable vehicles, the Rolls Royce-grilled, rebodied ex UTA Leyland Worldmaster.

Moore's Tours continue operations from the Blakehurst depot as a charter operator. The fleet has since been reequipped with four Denning Landseer double-deckers. Since Term 1 2015, Moore's have operated a private school contract for St. George Christian School, Hurstville, serving Ramsgate, Brighton, Mascot, Green Square, Kensington and Eastgardens. m/o 8976 Mercedes-Benz O405 operated the service until Term 1 2017, when TV 9121 was purchased to operate the service. Both vehicles have been in a special livery for the service.

The company has been known for its quirky addition of "LOST", "UNCERTAIN" and similar "destinations" to their destination rolls. This humour of this tradition was commented on in the Sydney Morning Herald's Column 8 section on January 10 2012:
''I was intrigued to see a Moores Tours coach with a destination board saying 'UNCERTAIN','' writes Henry Collins, of Cronulla. ''Does this mean the driver is spatially challenged, or that the occupants throw dice at every junction? It must be difficult for the driver to even leave the depot. Or perhaps it is just another version of the traditional 'Mystery Tour'.''

Acknowledgments: Operator information compiled by Ben Ogle using Fleetline magazine, the Australian Transport Discussion Board, Robert Henderson's 'Sydney Bus Route History' website & the Sydney Morning Herald.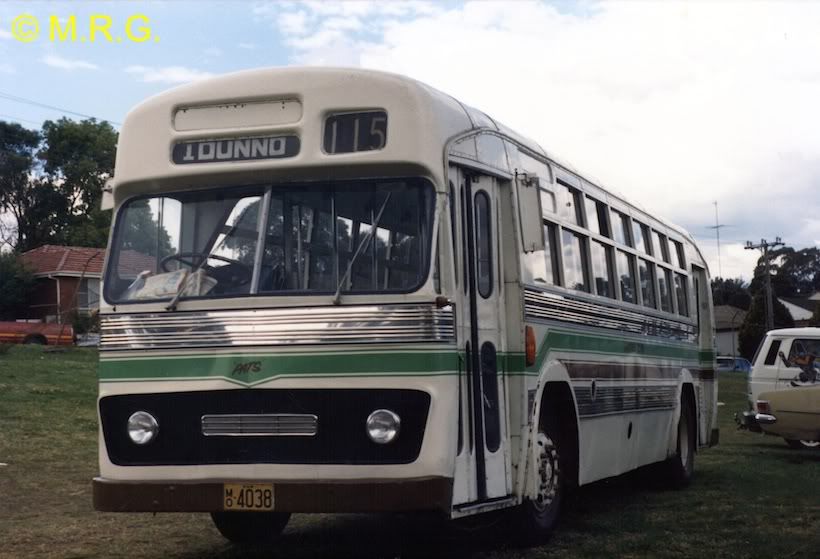 © 2008 to 2015. If you have information you wish to contribute to these fleet lists, please contact
NSW Moderator