The Oxley Explorer - Walcha
The following list is of known buses both current and those previously operated by The Oxley Explorer - Walcha.
Accreditation:
Macphersons Walcha Pty Ltd, Acc No. 30866, Walcha
Depot Address/s:
10 Merdian Street, Walcha
Vehicles are outstationed at Niangala, Armidale & Uralla
School Runs:
N0099 Walcha - Woolbrook
N0100 Woolbrook - Congi
N0190 Walcha Town Service
N0311 Walcha - The Flags
N0312 Walcha - Port Stephens Rd (Orrundunby)
N0327 Walcha - Emu Creek - Blue Mountain
N0329 Walcha - Tia
N0525 Walcha - Mirani
N1079 Niangala - Cowsby
N1353 Niangala - Weabonga
Website:
www.oxleyexplorer.com.au
AE Burrows Investments Pty Ltd (Anthony Burrows) t/a Walcha Bus Service was the main bus operator in Walcha prior to 1987, operating 6 of the 9 school contracts servicing Walcha schools. Burrows split the business two ways, selling 5 school contracts to CJ & ME Macpherson from Tamworth in 1987 and the Walcha - Woolbrook school contract & Walcha Bus Service trading name to M Ahrens prior to that.

CJ & ME Macpherson operated the Tamworth and Walcha operations side-by-side under the same accreditation.



CJ & ME Macpherson MO 1851 Albion Viking AVK43-505 / Denning (280 5/6/70) B49F - Peter Kane.

The business split two ways in June 2002, the Tamworth operation going to Stuart and Archie Macpherson, and the Walcha operation to Malcolm Macpherson with MO 1000 Hino Ranger, MO 2281 Hino BD186, MO 4257 Hino FD164L, MO 4519 Elwood & MO 5478 Denning Landseer. At Walcha, a fleet of coaches has been added since June 2002, starting with MO 9004 MCA Marathon in 2002.The trading name The Oxley Explorer was adopted in 2004 to avoid confusion with the Tamworth operation.

The Walcha - Mirani school contract was taken over from the Mirani School Bus Committee, Walcha with MO 5831 Toyota Coaster in 2008.

The two school contracts serving Niangala Public School were acquired from GT Galvin, Niangala with 4715 MO & 4716 MO Toyota Hi-Ace Commuters on 11 April 2011.

The Walcha - Woolbrook & Woolbrook - Congi school contracts were purchased from Yellow Cross Equipment Pty Ltd, Walcha with 4020 MO Hino Ranger & YUW 687 Toyota Hi-Ace Commuter on 1 July 2013.

The purchase of Walcha - Woolbrook school contract finally brings the 6 school contracts owned by Anthony Burrows' Walcha Bus Service prior to 1987 back under the same ownership and gives The Oxley Explorer 7 of the 9 school contracts serving Walcha schools.

The Uralla - Gostwyck & Uralla - Rocky River school contracts were purchased from NV & MW Doran, Uralla 1/4/19 with 3384 MO & CE82EN.

The walcha - Inglebah - Niangala school contract was won on tender commencing 1/4/20. The previous operator of this contract was CL & ML Cross, Walcha.



The Oxley Explorer 5898 MO Denning Landseer (1264 3/88) C57F ex Ventura - Mick Kane.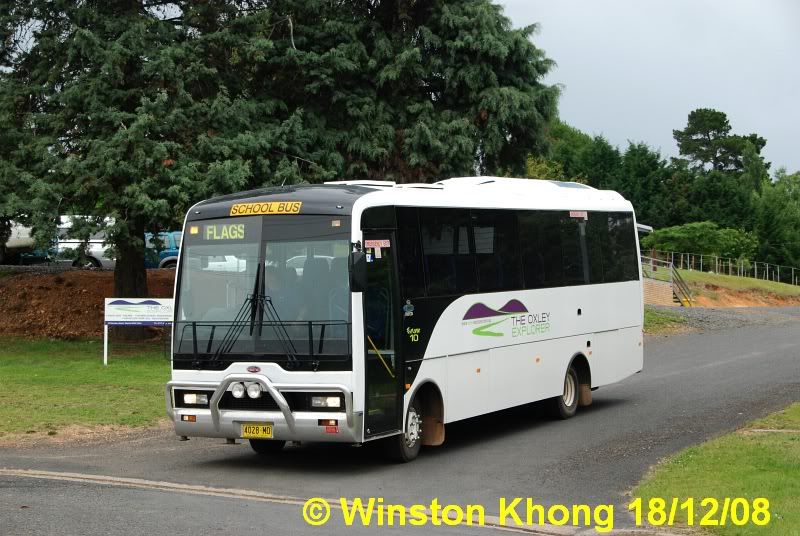 The Oxley Explorer 4028 MO Iveco Eurorider / Mills-Tui (PBOEX0293 9/05) C43F - Winston Khong.
© 2008 to 2015. If you have information you wish to contribute to these fleet lists, please contact
NSW Moderator