Loader's Coaches - Grenfell
The following list is of known buses both current and those previously operated by Loader's Coaches - Grenfell.
Accreditation:
Loaders Coaches Pty Ltd, Acc No. 31088, Grenfell
Previously RJ & NJ Loader, Acc No 8106, Grenfell
Depot Address/s:
23 Brundah St, Grenfell
11 MacKenzie St, Young
Livery:
Green and white with red sign writing
School Runs:
N0386 Grenfell - Bumbaldry
N0389 Grenfell - Greenethorpe
N0401 Young - Windemere - Murringo
N0630 Grenfell - Nags Head
N1005 Young - Jerrybang Lane
N1285 Grenfell - Mid Western Highway
N1493 Maimuru Special
N1494 Young - North Town
N1503 Young - South Town
N2890 Young - Victoria Gully No 2 (Windemere)
N3022 Young - Commons Rd

Website:
www.loaderscoaches.com.au
Richard Loader (senior) commenced operation of the Grenfell schools to Mid Western Highway school contract in the mid-1950's.

In 1968, Loader purchased his first coach and commenced charter and Australia-wide tour work, which remains an integral part of the business to this day.

In 1972, the company's current manager Richard Loader (junior) took over from his father, in partnership with Norma Loader.

Additional school contracts have been secured over time through take overs and by natural growth, including:-
- Young - Murringo school contract from R & F Patterson, Murringo with MO 7831 Isuzu ECR570S.
- Young Town school contract from EJ & RC Griffiths, Young with MO 7822 Leyland Super Comet.
- Young Town South school contract from JL Marsh, Young with MO 7829 Volvo B6FA.
- Young - Commons Rd school contract commenced in 2010 as an overflow service to the Young - Murringo run
- Young - Jerrybang Lane, Maimuru Special & Young - Victoria Gully No 2 (Windemere) school contracts from P & E Muller, Young 1/9/21 with 7004 MO, 7175 MO & 7176 MO Hyundais.

In 1996, Loaders Coaches were successful in their bid for the Lithgow - Grenfell Countrylink contract, resulting in the purchase of TV 2134 MCA Marathon. The company has successfully retained the contract through several rounds of tendering, including the signing of another 5 year contract with options for a 3 year extension based on performance, commencing January 1 2015.

In January 2009, the company relocated from the depot they had outgrown at 7 Dalton Street, Grenfell, to a new purpose-built depot at 23 Brundah Street, Grenfell. Young buses have operated from several sites, most recently 11 MacKenzie St.

After 25 years servicing the Bathurst / Lithgow - Grenfell TrainLink contract (services 531, 532, 550, 551 & 580), the contract passed to Swan Hill Bus Lines Pty Ltd effective 1/7/22.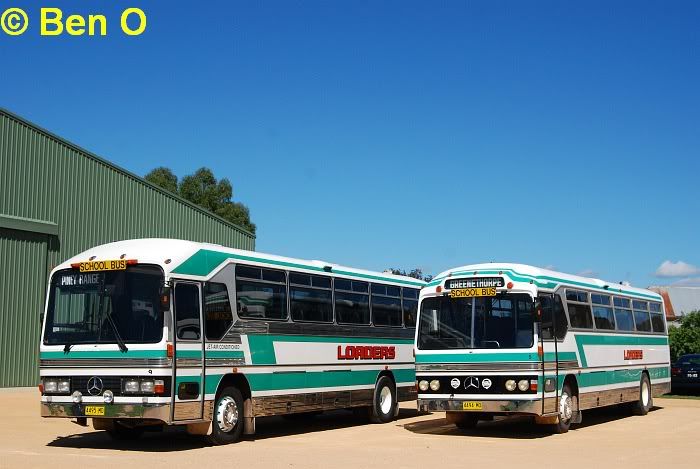 © 2008 to 2015. If you have information you wish to contribute to these fleet lists, please contact
NSW Moderators