Allens Coaches - Coolamon
The following list is of known buses both current and those previously operated by Allens Coaches - Coolamon.
Accreditation:
Allens Coaches Coolamon Pty Ltd (formerly RG Allen & Co), Acc No. 9225, Coolamon
Depot Address/s:
76 Mirrool Street, Coolamon
Saxon Street, Wagga Wagga
Livery:
White with blue and red signwriting
Service Runs:
Wagga Wagga - Coolamon - Ganmain
School Runs:
1 Wagga Wagga - Coolamon
2 Wagga Wagga - Ganmain
3 Wagga Wagga - Flowerdale
4 Wagga Wagga - Marrar
5 Coolamon - Methul
6 Coolamon - Kinilibah/Marrar
7 Coolamon - Tooyal
8 Wagga Wagga - Lockhart
9 Wagga Wagga - Currawarna
10 Wagga Wagga - Gap Rd/Currawarna
11 Wagga Wagga - Coolamon
Website:
www.allenscoaches.com.au
Transport carrier Amos Allen branched out into the bus industry in 1948 with a passenger service from Coolamon to Wagga Wagga. Ownership has passed down two generations to Bob Allen (R.G. Allen), and more recently to Brett Allen after Bob's passing in 1999.

After Hanby's Bus Service in Narrandera was shut down by the DOT 3/97, Allen was appointed operator of the Narrandera Town school services. Allen successfully won the tender for the contract to operate the services and reorganised them into Narrandera Town 1 & 2 school runs. These runs were later sold to R & M Shields t/a Narrandera Bus Lines with MO 9517 & MO 9940 in 2000.

The Wagga Wagga - Lockhart and Wagga Wagga - Currawarna 1 & 2 runs were acquired from M & M Buses (BG & RJ Malaquin, KJ & PE Morden), Wagga Wagga with MO 2126, MO 3383, MO 5830 & MO 7915 1/07.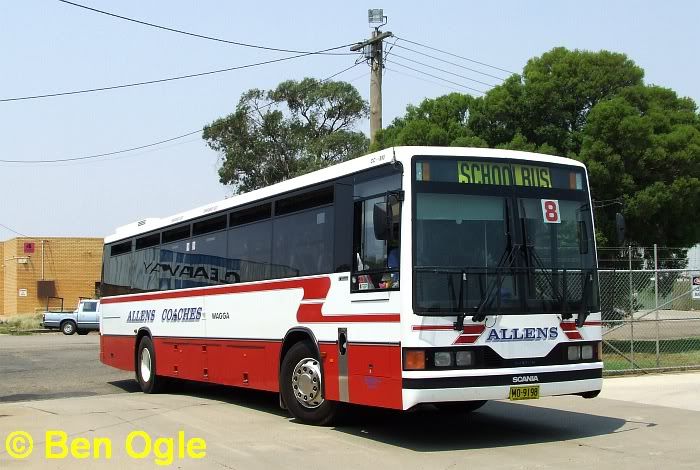 © 2008 to 2015. If you have information you wish to contribute to these fleet lists, please contact
NSW Moderator