ABC Coach Lines - Alexandria
This is a historic listing of vehicles owned and operated by ABC Coach Lines - Alexandria.
| | |
| --- | --- |
| Depot Address/s: | Bourke Road, Alexandria (opposite the fire station) |
| Livery: | Former South Western Coach Lines livery |

Peter Brewer started his career in the bus industry at age 18 as a conductor at the Pagewood government bus depot. After doing some casual charter work for Barry Barton's Marrickville Bus Lines in the early-1970s, he was later approached by the company's new owner (Max Holman) to work at Marrickville Bus Lines full time. This started Brewer's 12 year career with industry figure Max Holman. Brewer ended up working for Holman's South Western Coach Lines at their Jannali, Revesby and Alexandria depots.

After managing South Western's Alexandria depot, Brewer went on to take over this portion of Holman's business in February 1986. Trading as ABC Coach Lines, Brewer acquired Route 18 Newtown - Alexandria - Oxford St - Bondi Junction and Route 19 Newtown - Waterloo - Redfern with 8 vehicles: 1x Bedford (m/o 5852), 1x Leyland Worldmaster rebody (m/o 312) and 6x Leyland Royal Tiger Cubs (m/o 4275, m/o 4617, m/o 5894, m/o 7168, m/o 7169 & m/o 7170). The registration m/o 1 (an enamel plate made by Peter Lowe's (of Lowe's Bus Service) sign writer) was included in the sale, but was not on a vehicle. It was remade as m/o 001 to be placed on m/o 312, the first Alnor body.

Route 10 Phillip & Morehead Sts, Redfern - Erskineville - Newtown - Camperdown was secured soon afterward from Tregill's Bus Service (Dick Tregill). This brought Routes 10, 18 and 19 under common ownership again after Wally Horwood (trading as Lowes Bus Service) split up the runs, selling Route 10 to Tregill mid-1982 and Routes 18 & 19 to South Western in October 1982.

On 2 February 1987, Routes 10 and 19 were amalgamated as Route 10, operating Redfern Mall - Erskineville - Newtorn - Children's Hospital, Camperdown. The Phillip St & Morehead Sts terminus moved to Redfern Mall (now Surry Hills shopping village) around the same time. As of this date, some trips were extended from Newtown to Children's Hospital, Camperdown - this service was shared between Route 10 and Route 18.

By 1987, neighbouring operator Briens Bus Service (KC (Ken) Westwood) had vacated their Leichardt depot and moved into ABC's yard in Alexandria, sharing their demountable office. When it got to the stage that three of Briens four Bedfords were inoperable, ABC lent m/o 7168 Leyland Royal Tiger Cub to Briens to operate their Route 119. This arrangement lasted for several months until Peter Brewer and Ken Westwood decided to go into partnership. ABC Coach Lines took over Route 119 Newtown Bridge - White Bay via Johnston St from Briens Bus Service on 1 August 1987, with the company now trading as ABC Coach Lines (incorporating Briens Bus Service). The four Bedfords were transferred to ABC, although only TV 806 was in service.

In conjunction with the opening of Marrickville Metro shopping centre on 16 November 1987, ABC Coach Lines reorganised their routes to service this centre and renumbered them into the Sydney Region Route Number System as follows:
451 Marrickville Metro - White Bay
452 Marrickville Metro - North Annandale (short diversion of 451).
453 Camperdown - Redfern Mall
454 Marrickville Metro - Redfern Mall
455 Camperdown - Bondi Junction

From 16 May 1988, weekday Route 452 services were through-routed with Route 454 to Redfern. Saturday services were taken over by an extension of Route 455 from Marrickville Metro to Annandale.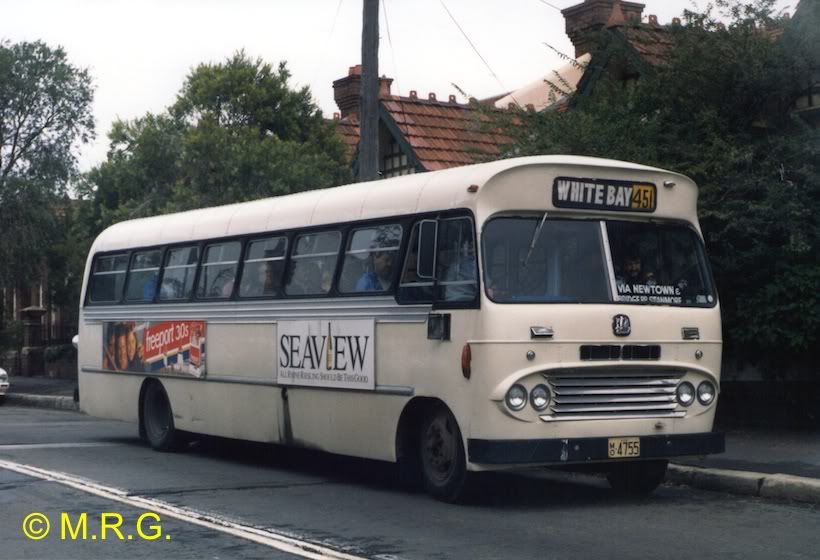 ABC Coach Lines went into liquidation and ceased trading as of 21 February 1989. Marrickville Bus Lines Pty Ltd, then owned by Benny Rachwal, took on the services as caretakers from that date until the liquidators sold ABC's routes to G & L Laughton of Wollongong Coaches. The majority of ABC Coach Lines' vehicles were sold at an auction held 10 April 1989.

Laughton adopted the name Arrow Coaches for their Sydney operation and procured a number of ex UTA Leyland Leopards to operate the services. Laughton sold out to Patersons Bus & Coach Service in April 1990, but subsequently reacquired the services the following month in May 1990. A batch of ex Canberra AEC Swifts were purchased from Menai Bus Service at this time. Arrow Coaches struck financial difficulty soon afterwards and the services were transferred to STA (as a caretaker) on 22 June 1990 when Arrow handed in their license. The services were integrated into STA's existing network.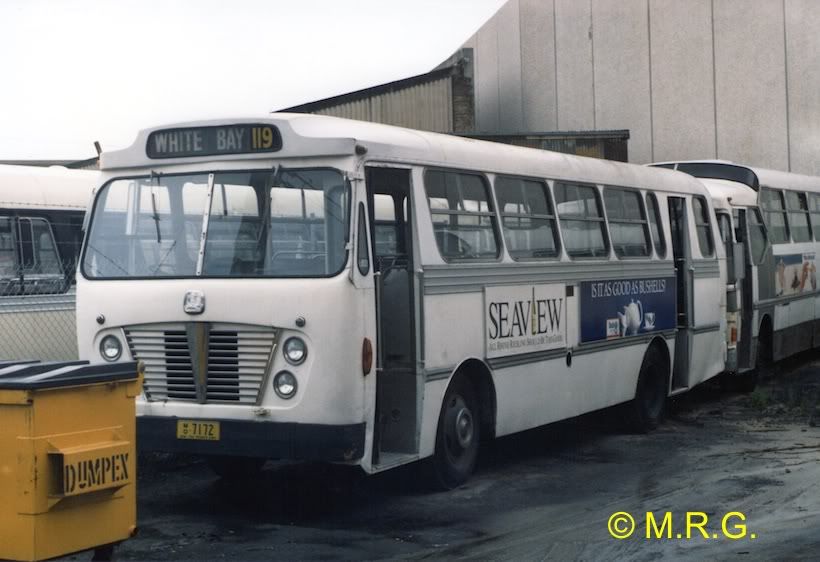 Acknowledgements: Historical information compiled by Ben Ogle with assistance from Peter Brewer, Robert Henderson (www.sydneybusroutes.com) and Allan Ofak.
© 2008 to 2015. If you have information you wish to contribute to these fleet lists, please contact
NSW Moderator